The innovative and sustainable water storage for your plants!
LITE-STRIPS save water and make our plants grow sustainably.
The summers are getting hotter and hotter and it rains less and less. You can no longer keep up with the often time-consuming watering, many plants die, often because of too little water or because the water does not reach where it should: the roots. Especially in summer, many tend to water all too well. Waterlogging occurs, the roots rot away and the plants die.
Huge amounts of water are often wasted pointlessly and there is no sustainable greening, which is also bad for our environment.
Plants are not only watered with LITE-STRIPS, but also aerated. LITE-STRIPS extend the watering intervals! LITE-STRIPS are water storage nonwovens in strip form, which are simply mixed into the soil (depending on the size of the application, approx. 2-10 % vol.).
This means that the water storage is located directly close to the roots and not, for example, at the bottom of the flower pot. The plants can access the water in the irrigation fleece much more easily and effectively. The approx. 7 cm long, patented fleece strips loosen the soil and store water when the soil is moist and release 100% of the water back to the roots when it is dry. Plants thus receive water exactly when they need it and where they need it: At the roots.
Plants are optimally supplied with water. 10 l LITE-STRIPS can store up to 9 l of water. This also prevents plants from being "over-watered" and extends the watering intervals.
In absences such as holidays, there is no need to ask neighbours, family members or friends who is watering the plants.
LITE-STRIPS are available in 3 versions:
Advantages

Extends the casting intervals

No more worries before the holiday

The solution for longer absences

Irrigate and aerate your plants

Stores water directly at the roots

Optimal supply of the plants

Loosened and better aerated soil

Simple and easy installation

Low weight

Sustainable greening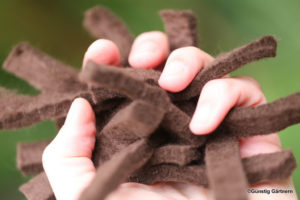 | | | | | |
| --- | --- | --- | --- | --- |
| Product name | Price | Material | Size | Application |
| Lite-Strips Bio1 | €15 | 100% cellulose fibres | 2.5 l – sufficient for up to 50 l soil | Trees, shrubs, bushes, lawns, raised planting beds, flowerbeds, vegetable beds, pots, flower boxes, plant troughs, balcony boxes, slope greening,  turf, urban gardening |
| Lite-Strips Bio5 | €15 | 70 % polyactides (PLA), 30 % cellulose fibres | 2.5 l – sufficient for up to 50 l soil | Trees, shrubs, bushes, bushes, lawns, raised planting beds, flower beds, vegetable beds, pots, flower boxes, plant troughs, balcony boxes, slope planting, turf, urban gardening |
| Lite-Strips PP | €16 | 100 % Polypropylen (PP) | 2.5 l – sufficient for up to 50 l soil | Trees, shrubs, bushes, bushes, lawns, raised planting beds, flower beds, vegetable beds, pots, flower boxes, plant troughs, balcony boxes, slope planting, turf, urban gardening |
| Lite-Strips Bio1 | €35 | 100 % Cellulose fibres | 10 l – sufficient for up to 200 l soil | Trees, shrubs, bushes, bushes, lawns, raised planting beds, flower beds, vegetable beds, pots, flower boxes, plant troughs, balcony boxes, slope planting, turf, urban gardening |
| Lite-Strips Bio5 | €37 | 70% polyactides (PLA) + 30% cellulose fibres | 10 l – sufficient for up to 200 l soil | Trees, shrubs, bushes, bushes, lawns, raised planting beds, flower beds, vegetable beds, pots, flower boxes, plant troughs, balcony boxes, slope planting, turf, urban gardening |
| Lite-Strips PP | €39 | 100 % Polypropylen (PP) | 10 l – sufficient for up to 200 l soil | Trees, shrubs, bushes, bushes, lawns, raised planting beds, flower beds, vegetable beds, pots, flower boxes, plant troughs, balcony boxes, slope planting, turf, urban gardening |