The innovative and sustainable water storage for your plants!
HOLIDAY-BAG supplies for several days the plants with water and stores it directly at the roots.
The 2 in 1 water storage combines the advantages of two products in one:
LITE-STRIPS + LITE-POT.
The ideal "all in one" solution for your balcony box plants! So you can enjoy your well-deserved holiday without worries.
LITE-STRIPS are 100% sustainable, reusable water storage nonwovens in strip form for mixing into the soil. This means that the water storage are located directly close to the roots and not, for example, at the bottom of the flower pot. Plants can therefore access the water in the irrigation fleece much more easily and effectively. 10 l LITE-STRIPS store up to 9 litres of water. LITE-STRIPS make the soil more continuous, and the water stored in the LITE-STRIPS is 100% available to the roots if required. LITE-STRIPS help plants survive longer periods of drought.
The LITE-POT water storage fleece also stores excess water like a sponge and releases it to the plants as required. The recycled fleece can be used several times and stores approx. 12 l/sqm.
LITE-POT fleece inlay supplies your balcony boxes with water for several days. They can be easily cut to size depending on the size of the balcony box.
Watering intervals are extended, in case of an impending absence (e.g. holidays or business trip) or time pressure, the plants are simply watered more than usual before, the LITE-STRIPS store the excess water and release it again when the soil becomes dry.
Installation instructions: Place the LITE-POT water storage fleece on the bottom of the balcony box, simply cut to size if necessary.
Pour a mixture of soil with approx. 5% (vol.) LITE-STRIPS over it. The bag is sufficient for 25 l of soil.
Advantages
Ideal for longer absences
Supplies your plants with water for several days
Stores water directly at the roots
Loosened and better aerated soil
Can be cut to size according to balcony box size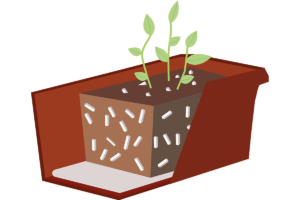 HOLIDAY-BAG
2x LITE-Pot M
+LITE-STRIPS
€ 16

LITE-POT: 100% recyceltes Polyester

2 x 60cm x 12,5cm
is sufficient for up to 25 l soil.
LITE STRIPS: Fleece streaks from 100% Polypropylene
1,25l LITE-STRIPS